Permanent Jewelry – Tuscaloosa, Alabama
PERMANENT JEWELRY:
The Easiest Everyday Accessory
Permanent jewelry is a great way to symbolize a relationship, cherish a memory, or simply to have on jewelry every day!
What is permanent jewelry?
Permanent jewelry is custom fit and welded closed without a clasp, creating a seamless permanent bracelet!
The process is super easy and painless! These make great pieces for milestone birthdays, friendship bracelets, mother-daughter or sister bonding, bachelorette parties, or simply to treat yourself! All jewelry is 14k gold-filled and sterling silver, making it tarnish-free and easy to clean!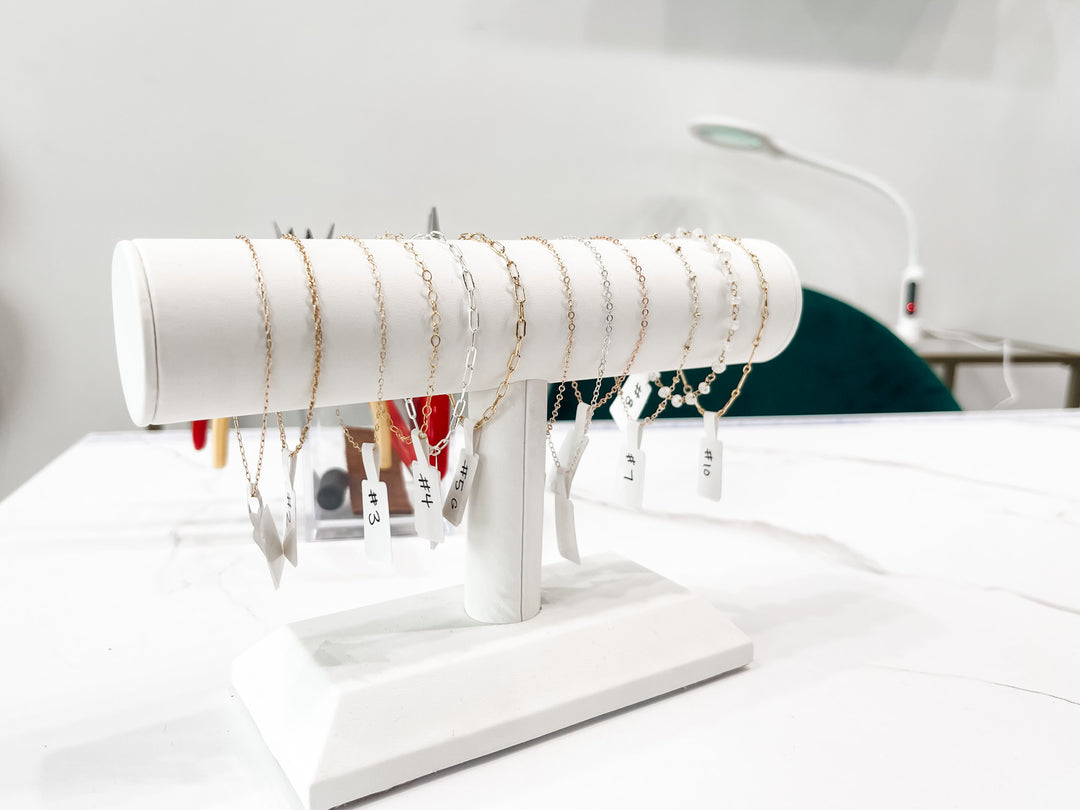 Where do I go?!
Ivy House Boutique's Permanent Jewelry is permanently located at Ivy House Boutique in Tuscaloosa, Alabama. You can book your appointment using the calendar below. Keep an eye on our social media to see when parties or walk-ins are available!
a few more things to know:
Each client must sign a consent form.
All permanent jewelry sales are final.
Permanent jewelry is welded, but not indestructible. By nature, the chain is delicate. Please handle with care!
We do offer a warranty! Scroll down to see the details.
Clients under the age of 18 will need a parent or guardian present. All clients must be over age 12.
A non-refundable deposit of $25 will be collected to secure your appointment. This will not be refunded in the case of no-shows or cancellations with 24 hours of appointment.
Please be on time! If you are 10 minutes or more late, the appointment will be moved to the next available slot, or cancelled.
Permanent jewelry is a piece of jewelry (bracelet, necklace, anklet, ring) that is welded together rather than secured with a clasp, creating a seamless chain.
While permanent jewelry is a catchy name, we prefer to call it welded jewelry. Since it is a delicate piece, there is a chance it can break. You also may decide to take it off at any time. However, we do our best to give you a secure, high quality piece that will last a very long time!
Not at all! While the welding process produces heat and a tiny spark, this only happens on the metal, never touching your skin.
The entire process takes about 15 minutes for our designer to consult, measure, cut, and weld the jewelry.
Yes! Please make an appointment using the calendar above. However, if you would like a same day appointment, you can call the store to see if one of our welders is available. You can also keep an eye on our social media to see if we're hosting any parties, pop ups or walk-ins that day.
If you need to cancel your appointment for any reason, please do so at least 24 hours in advance. When booking your appointment, a non-refundable $25 fee will be collected. If you cancel your appointment within 24 hours or do not show up for your appointment, the deposit will not be refunded.
Keep in mind permanent jewelry CAN break. If it breaks, please reach out to us, and we will be happy to re-weld the original chain to the same part of your body at no cost. We can also add a clasp if you would rather do that. If you are located out of town and can't make it back in, please ship the chain back to us, and we will put a clasp on and mail back to you.
Yes! Since the jewelry is made of 14k gold and sterling silver, TSA will not ask you to remove it.
While there are no known risks to permanent jewelry for pregnant, we suggest you consult with your doctor first. Keep in mind, if you are pregnant, you will likely need to remove your jewelry for delivery. You may also experience swelling that could cause discomfort with your jewelry. We recommend waiting until after delivery to get your permanent jewelry! (then you can get their cute little initials or birth stone added too!)
No worries! Since nothing in the piece is magnetic, it will not cause any problems with an MRI machine. However, if a medical professional asks you to remove it, you can cut it off with a pair of scissors and have it re-welded later.
Yes! Please contact us to set up an appointment to re-weld your jewelry. We can only re-weld the piece on the part of your body it was originally placed.
If you would like us to re-weld a piece of jewelry that was not originally done by Ivy House Boutique, we will charge a $10 fee.
All of our chains are made of 14k gold fill and sterling silver.
Here is a great resource to learn more about the differences in gold jewelry.
All chains are made of 14k gold fill and sterling silver. While the piece should never tarnish, it may appear that way! Don't worry, it just needs a simple clean to shine again.
Keep in mind that gold fill is not the same as solid gold. Here is a great resource to learn more about the differences in gold jewelry!
We recommend bracelets and necklaces to get the most longevity from your piece.
Anklets are so fun, but they are the easiest to break. With the way your ankle stretches and moves, it can stretch the jewelry and cause the chain to break (it very rarely will break at the welded part). It's also easy to catch on your shoe, socks, or pants.
Rings are another beautiful piece, but are more likely to catch on things and break.
Gold Filled is a very durable metal! However, it is still possible for gold-filled jewelry to leave a dark mark on the skin and/or have the metal oxide under certain circumstances.

The dark mark or discoloration that can occur with gold-filled jewelry is often a result of abrasion or the base metal reacting with substances present on the skin. Here are a few reasons why this may happen:

1. Body Chemistry: Every individual's body chemistry is unique, and some people's skin chemistry can react with metals differently. Factors like pH levels, sweat composition, and skin acidity can influence the reaction between the base metal and the skin, leading to discoloration.

2. Friction and Moisture: When gold-filled jewelry comes into contact with moisture, such as sweat or water, it can accelerate the reaction between the base metal and the skin. Additionally, friction caused by the movement of the jewelry against the skin can contribute to the dark mark.

3. Chemicals and Cosmetics: Contact with chemicals found in cosmetics, lotions, perfumes, hairsprays, or household cleaning products can cause gold-filled jewelry to darken. Some chemicals can react with the metal components, leading to discolouration.

4. Environmental Factors: Exposure to certain environmental elements, such as air pollution, sulfur, or high humidity, can accelerate the tarnishing process of gold-filled jewelry.
Sterling silver can look tarnished from chlorine, chemicals, or just over time. Don't worry! It just needs a good cleaning. A baking soda paste and jewelry cloth should shine it right back up.
All our GF is considered hypoallergenic. We guarantee that there is no nickel, cadmium or carcinogenic in any of our jewelry pieces.
However, there are so many types of metal sensitivities. There are people who are simply allergic to GF or Sterling Silver. Often these people can only wear high carat gold (smaller percentage of base metals in the mix). If you are very sensitive to copper, you may have a problem with sterling silver. If you are very sensitive to brass, you may have a strong reaction to gold filed (the core is brass).
Want to host a pop-up?
We'd love to join you at your salon, birthday party, home party, bachelorette party, winery, or corporate event!